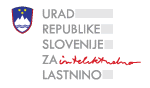 Consultation on the draft document with representatives of the collecting societies will be on 05/08/2014.
Intellectual Property Office has made recommendations for  collective management organizations in the Republic of Slovenia. Published a draft document, which was sent to all organizations for collective management of copyright and related rights, which will be discussed at the consultation between representatives of the Bureau and representatives of these organizations, on 5 August 2014 at the premises of the office.
Recommendations of the Office adopted to ensure better governance of collecting societies in the Republic of Slovenia and greater transparency in their operations. The Office believes that better governance and greater transparency in the operation of collecting societies in the company to provide a better basis for greater understanding of the importance of copyright and related rights in general, and thus the value and importance of creativity in the Republic of Slovenia.
In formulating recommendations, the Office of the account Slovenian legislation, guidelines and recommendations, as applicable in the EU principles of business ethics and good practice for responsible and good governance of collecting societies.
Collecting societies are complex institutions depending on the complexity of the rights which they operate. Tariffs imposed by collective organizations adopt rules and division of compensation beneficiaries are not always understandable and logical at first glance.
Terms recommendations have collective organization nature of the guidelines, which as such are not legally binding.
Source: SIPO