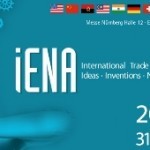 From 31 October to 3 November, 2013 the 65th International Exhibition "Ideas – Inventions – New products » iENA – 2013 will take place in Nuremberg, Germany. The trade fair is one of the most significant and largest invention specialized exhibitions in Europe. This year inventors from all around the world will present 750 inventions.

The trade fair is held under the patronage of the Government of Bavaria, the German Federal Ministry of Education and Research, with the support of the World Intellectual Property Organization (WIPO) and the International Federation of Inventors Associations (IFIA). The exhibition is the oldest and most prestigious event held in Europe, demonstrating the brand new innovations in science and technology.
The range of the presented inventions spans from high-tech inventions to low-tech inventions and encompasses above all developments and innovations from the areas of
Environmental protection
Mechanical engineering
Construction industry
Power technology
Office equipment, advertising, graphics
Recreation, hobbies and sports
IT/electronics
Chemistry
Medical technology, medicine, cosmetics
Farming
Promotional products
and many other areas.
There will be a specialized program of daily lectures offering interesting insights into the development work of inventors, presenting outstanding new ideas and establishing contact between specialized visitors and exhibitors.
Examples of several lecture topics:
Research methods and the marketing of inventions are offered by the Deutsches Patent- und Markenamt (the German patent and Trade Mark Office DPMA), TÜV Rheinland, European Patent Office (EPO) and Steinbeis-Transferzentrum Infothek (Steinbeis transfer center infothek), among others. The lecture series will be rounded off with the presentation of various examples.
The iENA symposium on the topic of "Patent policy in Europe" will take place on November 1. The creation of a standard European patent system is intended to improve the general conditions for innovative companies and private inventors and modernize the European patent system. "Will setting up a standard patent strategy mean that all innovative forces will work together?" – this issue will be discussed by representatives from the European patent offices and the German patent office with representatives from TÜV Rheinland, the Industrie- und Handelskammer Nürnberg (Chamber of Commerce and Industry) in central Franconia and the trade periodical INNOVATIONS-Forum.
An international specialist jury will award medals, prizes and special prizes for the best ideas and inventions. From experience, inventions that received awards at the iENA generally enjoyed a higher level of media interest. And very frequently, this takes them a lot further on the way to successfully marketing their inventions.
On the basis of the descriptions of the demonstrated developments at the trade fair an official catalogue is published, which becomes a part of the global database of intellectual property objects.
For more information, you may visit: http://www.iena.de
Source: iENA