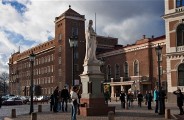 On March 24, the Latvian Patent Office (PV) and Riga Technical University (RTU) signed a cooperation agreement. It aimed at raising awareness among students and researchers on the protection of industrial property and its importance in successfully commercialising inventions.
The Director of the Latvian Patent Office Director Sandris Laganovskis expressed the Office's pleasure in having entered into a cooperation agreement with the RTU, which is the leader in terms of the number of Latvian patent applications.
Under the agreement the two institutions agreed to cooperate in the following areas
– intellectual, educational, scientific activity and innovation, as well as international cooperation.
RTU Innovation and Technology Transfer Centre Manager Laila Elin underlined that the agreement would allow the Office and the University to work together even more closely and productively.