Dear readers, join our
Contest for publication in connection with the World Intellectual Property Day April 26, 2014
MOVIES – A GLOBAL PASSION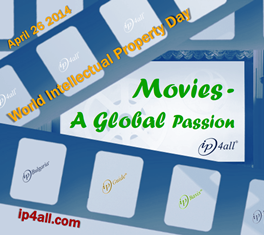 is the motto of this year's World Intellectual Property Day celebrated by WIPO.
Send us your work – article, essay, photo, poster or any other kind of material dealing with film industry and its relation to important aspects of Intellectual Property – copyright, piracy, legal protection, etc.
The most important proposals will be published on the pages of ip4all: http://ip4all.com/ – international intellectual property portal and IPBasis: http://ipbasis.com/ – our info-site for students.
The authors of the best works will be awarded prizes – publications in the field of intellectual property, and they will be offered a reporter's internship in IP Bulgaria.
All participants will be invited to publish their future works at our websites.
We are looking forward to your proposals at: editor@nullip4all.com till 22.04.2014.
The winners in the contest and their works will be published on 26.04.2014.
Regards,
The team of IP4ALL NETWORK
===========================================================
http://ip4all.com/, http://ipbasis.com/, http://ipbulgaria.bg/, http://ipconsulting.eu/bg/